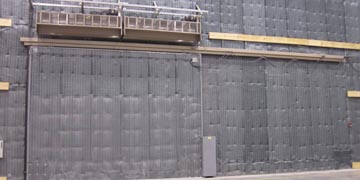 Acoustical (Sound Control) Doors
International Door acoustically rated doors for ratings up to STC55 or higher. IDI acoustical door are available as:
Vertical Lift Doors (1 leaf or 2 leaf)
Sliding Doors
Large Hinged Doors
International Door acoustically rated doors are an excellent choice for movie studios, sound stages, band rehearsal rooms or other areas where a heavy duty door is required while, at the same time, keeping sound transmission to a minimum. International Door acoustical doors have been tested by a nationally recognized acoustical testing laboratory incorporating the latest ASTM standards (this testing data is available for transmission loss and STC rating calculations). All IDI sound doors are fabricated with special sound deadening/sound dampening material and fixed perimeter sound seals.
Applications
Movie studios, sound stages, recording studios or movie production areas
Theaters
Rehearsal areas
Schools
Conference areas
Dynamometer chambers or testing areas
Options
Inflatable perimeter seals with integrated controls
Programmable logic controls
Custom designs to meet your project's exact requirements