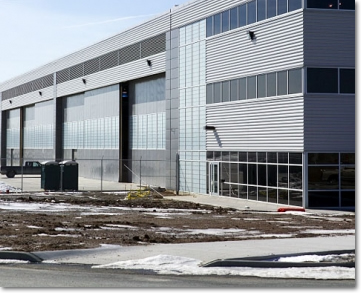 Hangar Doors
International Door, Inc., and our Byrne Hangar Door Division have been designing, manufacturing, installing and servicing industrial doors, hangar doors and control systems since 1936. Our reputation for reliability began with that very first door, which is still operating today.
Bottom Rolling Doors
Byrne bottom rolling, top-guided hangar doors are recommended where side clearances permit. To accommodate specific aircraft, separate tail doors above the main doors may be installed. If a portion of the aircraft will project outside the hangar, specify apertures and associated closure doors. Electric or hot water melting systems are available where snow conditions require. Floating top-guide roller systems will accommodate vertical movements of the roof. Captive rollers prevent disengagement of the door. Options include audible warning systems and visual warning systems.
Vertical Lift & Canopy
Canopy and vertical lift doors provide clear, unobstructed openings where space to either side of the hangar opening is not available. Operation is faster than bottom-rolling types.