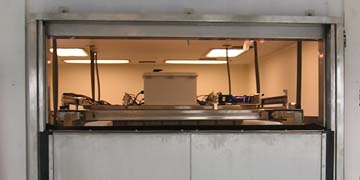 Fire Rated Doors
International Door manufactures UL tested and approved Vertical Lift Fire Door assemblies which can carry affixed UL labels up to 3 hours. IDI Vertical Lift Fire Doors are available as a two (2) leaf design and within the size limitations indicated below. All IDI fire doors are manufactured with a fusible link device which allows the door to automatically close in the event of fire. Perimeter seals are of a special design and incorporate a silica cloth covering which will withstand extremely high and prolonged temperatures.
Size Limitations
Up to 12'0" wide x 10'0" high UL-A label (3 hours)
To 15'0" wide x 12'6"high (Oversize certificate only)
Over 15'0" wide x 12'6" high (in any direction)(Manufacturer's certificate only)
IDI Vertical Lift Fire Doors can be manually operated or motor operated with push button controls.
Applications
Warehouses
Automotive facilities
Paint facilities
Manufacturing plants
Building additions
Options
Integrated controls with fire alarm system
Blast rating @ 100 PSF or higher
Special operating controls - Please consult IDI engineering for more details