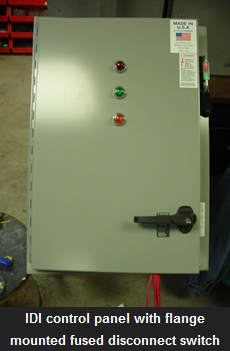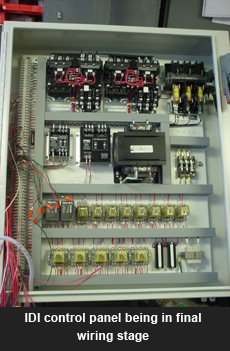 Control Panels
All electrical control panels are custom designed and manufactured, by International Door, for your specific project.
All assembled control panels are UL approved (E-145876)
All control panels feature fail safe safety edge circuitry
All IDI control panels are NEMA rated (standard NEMA 12)
Optional NEMA 4 or 4X units are available as weathertight units
Optional NEMA 7/9 units are available as explosion proof units
Wide range of operating controllers
Standard push button controls
Automatic controls utilizing inductive loop detectors or motion detectors
Pull cords controls
Custom units integrating and sequencing the operations of dock doors, dock levelers, truck/trailer restraints and truck leveling devices.
Photo eyes available with all types of controls
Available with variable frequency controls for ultra-smooth acceleration and deceleration.
Available as solid state fully programmable units
Available with radio controls
Interlocked, sequential operation of two (2) doors to create a vestibule or air lock operation.
Available for plant railroad entrance systems
Electrically interlocked railroad derail systems will co-ordinate the operation of the door where railroad tracks enter a building
Warning lights and bells are provided to alert plant personnel of an approaching train
Traffic signal lights are used to indicate where the train may enter
Railroad crossing signal, actuated by either derails or insulated rail joint systems are utilized where railroad tracks cross plant roadways.