Special Purpose Doors
Please consult IDI Engineering for specifications and details for your specific project.
International Door manufactures a number of custom designed special purpose doors. The following is a listing and a brief description for a few of these types of doors. Please consult our sales department for additional designs and information.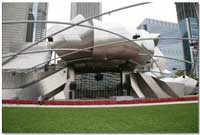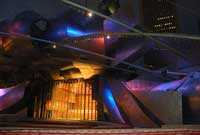 Corrosion Resistance
All types of doors can be constructed using stainless steel or galvanized materials for use in ovens, test cells, wash racks, spray booths or other hostile environments.
Sound Control
IDI manufactures a sound rated vertical lift door with a rating of up to STC 55. This model is ideal for sound stages, band rehearsal rooms and for other areas where a heavy duty door is required while, at the same time, keeping sound transmission to a minimum. International Door sound doors have been tested by a nationally recognized acoustical testing laboratory incorporating the latest ASTM standards (this testing data is available for transmission loss and STC rating calculations). All IDI sound doors are fabricated with special sound deadening/sound damping material and perimeter sound seals.
Applications
Theaters and auditoriums
Sound stages and production areas
Rehearsal areas
Schools
Conference areas
Test areas
Options
Programmable logic controls
Mezzanine Door
A dual door/gate type system which is directly counterbalanced (one door assembly balances its counterpart) for direct loading and unloading in a mezzanine area. The mezzanine assembly operates as a true "vestibule" type operation; that is, when one (1) unit is open the opposite unit is closed and vice-versa. This ensures safety and efficiency for workers operating in these types of areas.
Blast Resistance
Standard doors, which withstand blast pressures 100 pounds per square foot (PSF), are available. Custom doors can be engineered to withstand higher pressures. Doors can also be designed to relieve blast pressure.
Roof Hatches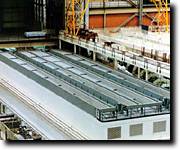 A special type of door to provide access, by cranes or other rooftop mounted equipment, to painting and curing areas. These doors are installed on a horizontal plane and lie flat along the roof line. Roof hatches are designed with multiple leaves and can be custom manufactured for any sized opening.
Pictured are four roof hatch closures, 105' long - seven leaves per hatch. They slide horizontally to provide crane access to painting and curing booths.
Swing Door
IDI manufactures heavy duty, industrial grade hinged/swing doors for openings too large or restrictive for standard hollow metal applications. IDI swing doors are the perfect choice for acoustical chambers, warehouses or industrial facilities where headroom limitations prevent the installation of overhead industrial doors. IDI swing doors are available with optional electric motor operators and can be specially fabricated with preparations for monorail access.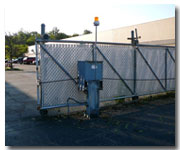 Gate Operators
International Door manufactures a heavy duty, industrial grade gate operator which can be modified to operate any type of hinged gate, sliding gate or special purpose installation that you may encounter.
+ Enlarge images by clicking